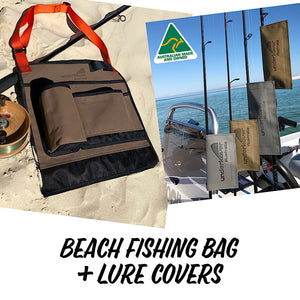 This bundle includes our Australian made beach fishing wading bag, perfect for carrying all of your gear to the water's edge. With catch and bait pouch's, a knife holder, and a drink holder, you'll have everything you need for a successful day of fishing.
But that's not all - we've also included four medium khaki canvas lure covers to protect your lures, hooks and sinkers from getting tangled up, hitting windows or 4wd roofs. These covers are made from high-quality canvas, so you can be sure that your gang hooks will stay safe and sound, even in the toughest beach fishing conditions.
With our fishing bundle, you'll be ready to hit the beach and catch some fish this season. And remember, folks - if you want to reel in a big one, you've got to bait your hook with a cold one. Cheers from Underkover Australia!
This bundle includes the following items:
1. Canvas Beach Fishing Bag - Chocolate colour. (place in order comment section if you'd like maroon colour).
2. Medium Lure 4 Pack - Khaki colour. (place in order comment section if you'd like a different option)
Please click on each item link to view full product description.
Free standard delivery on this bundle.